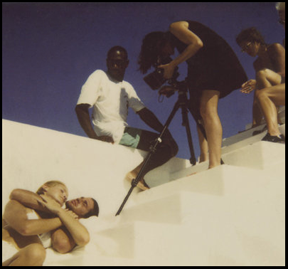 On location in Miami
Gina Uhlmann's assignments and campaigns include
New York City Ballet, Tenth House Dance, Revolution Dancewear, Dance Direct, Victoria's Secret, Revlon, Creative Nail Design, Vidal Sassoon, Jockey, Fidelity,
ABC, CBS, Allure, Seventeen, Modern Luxury, Avenue and People Magazines.
With over twenty years experience in the fashion and advertising industry,
Gina's work has appeared in Vogue, Bazaar, Allure, Glamour and Elle Magazines.
Gina's passion for photography, combined with fifteen years of dance, training with Maria Tallchief, Eric Braun, and Carol Walker,
has produced a style that is both lyrical and intimate.
.
.
gina@ginauhlmann.com
773-800-0870
© Gina 

Uhlmann

 2019